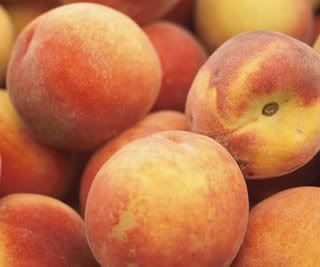 Ingredients:
Makes 6 cakes, 1 per person
4 tablespoons (1/2 stick) of unsalted butter, softened
3/4 cup of sugar
1/4 teaspoon of vanilla extract
1/8 teaspoon of almond extract1
1/2 cups of unbleached white flour
1 1/2 teaspoons of baking powderPinch of salt
1 cup of milk
2 egg whites
Peach jam
Syrup
6 tablespoons of white grape juicetablespoons of sugarRed sugar sprinkles or flakes.
Preheat oven to 350°F. Liberally grease twelve 6-ounce custard cups. Place cups on a cookie sheet.
Cream the butter with sugar until fluffy and stir in the extracts. In another bowl combine flour, baking powder and salt. Add the flour mixture to the butter mixture alternately with milk, beating well after each addition. Bet the egg whites until stiff but not dry. Fold into the batter.
Pour about 1/4 cup of batter into each custard cup. Bake for 20 to 22 minutes, or just until a cake tester comes out clean. Do not let the cakes brown. Remove from oven and immediately turn the cakes out onto a wire rack. Working quickly, turn each cake upright and with a serrated knife trim the crown of each cake to make a flat surface. Discard the trimmings or save for a later snack.
Spread a thin layer of peach jam on the sliced end of each cake, and then press 2 cakes together to form a "peach". The cakes will stick together if they are still warm. If desired, gently press one end of each "peach" into a slightly pointed shape.
To make the syrup, combine the grape juice and sugar in a small saucepan. Bring to a boil and simmer for 5 minutes. With pastry brush, brush each "peach" all over with the syrup. Put the red sugar sprinkles in a bowl and dip each "peach" into the sprinkles.
These cakes are best made earl in the day or even before serving so that the syrup will soak in.